Top Message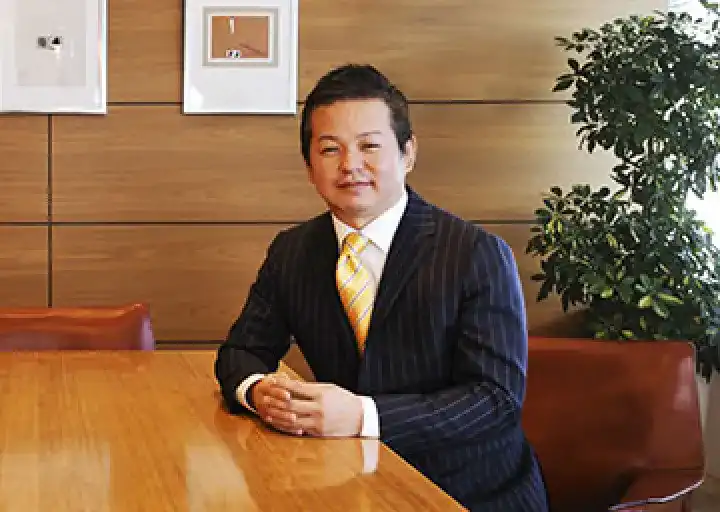 The Company was certified as a DX Business Operator on June 1, 2022 under the DX Certification System established by the Ministryof Economy, Trade and Industry.
The DX Certification System is a system that the government set up to certify companies that are prepared to promote DX through a range of initiatives such as the formulation of a management vision and establishment of strategies and systems in line with the basic items of the Digital Governance Code based on the Act on Facilitation of Information Processing.
Growth Supported by IT
Since our founding in 1994, we have continued to develop our unique
business model and achieve groundbreaking growth. In 1998, we became the second fastest company to be listed on the Tokyo Stock Exchange and, in 2004, we became Japan's first and only hyper-growth company*.
*Term used in the USA to describe growth businesses that achieve net sales of 1 billion dollars within 10 years of establishment.
I believe one of the major factors contributing to this success has been our innovative fusion of business and IT. Examples of this include our system of batch appraisals (calculation of vehicle value) provided by the main office for used vehicle purchases at all stores nationwide and Dolphinet (a sales system that enables the browsing of vehicles purchased throughout network of stores nationwide). At the time, these were completely new initiatives.
In particular, Dolphinet, which we began using in 1998, became a platform for the growth of our retail sales business (sales to consumers), a greater contributor to profit than the wholesales business (purchase then sell at auction). Registering the detailed information of purchased used vehicles and selling those vehicles nationwide has helped us maintain our policy of completely selling off purchased vehicles within two weeks to minimize inventory risks associated with price drops.
We were using satellite communications when we first launched Dolphinet but we quickly switched over to the internet and made continuous improvements to where now Dolphinet has become the backbone of our business.
Our IT-driven business has been praised as advanced and innovative. This praise includes awards such as the IT Japan Award 2012 (awarded by Nikkei Computer), which recognizes excellence in IT utilization and our selection to the 2nd High Service Japan 300 (2008, sponsored by SPRING, Service Productivity & Innovation for Growth), which recognizes companies conducting initiatives promoting innovation and improvements in productivity.
Achieving the Medium-Term Business Plan
Our corporate culture promotes the continuous and proactive incorporation of new technology, and we have a history of being early adopters of technology and services that eventually become common throughout the industry. We promote the use of IT in various aspects of our business. Below are examples of some of IDOM's unique initiatives.
Promoting Projects that Combine IT and Business
IDOM promotes the planning of projects that combine IT and business. Examples of this include NOREL, a fixed price unlimited ride service that can be reserved completely online, and Gulliver Fle-Ma (Flea Market), a C2C platform that brokers used car sales between individuals. We conduct AI assessments (assessments using AI). We have started e-commerce on our website and OMO (Online Merges with Offline).
Improving Productivity and Stimulating Internal Communication
We proactively promote the integration of new technology and services aimed at increasing productivity. For example, our early adoption of cloud servers enables us to build a platform that enables the smooth launching of new services and the expansion of overseas operations. We also are incorporating systems that stimulate and optimize internal communication.
Utilizing data in the development and expansion of large stores and maintenance shops with the use of digital technologies
We will push forward with the development and expansion of large stores and maintenance shops, a pillar of our growth strategy by utilizing our digital transformation to attract visitors to stores by, for example, establishing an online reception system using social media for the visitors to our large stores, establishing maintenance shop maintenance systems and seamlessly integrating online and brick-and-mortar stores. We will also implement the inventory strategy using a price system to control inventory.
With the technological revolution due to autonomous driving, AI and other technologies and the changes in users' lifestyles as represented by the sharing economy, the automobile industry is entering a major turning point.
A growth strategy has been developed to enable us to continue to grow during this major turning point. Further, we have announced our Medium-term Business Plan for the coming five years.
In the achievement of this plan, it is necessary to have a strategy for streamlining our purchase business based on our digital transformation and for continuing the expansion of our retail business. We will continue to actively pursue these strategies.
IT System and Human Resources
We assign IT human resources to two domains: the conventional information system domain that deals with systems for the existing real stores and the domain where IT
and business are combined mainly in new business areas.
IDOM Technology, a department dedicated to IT, is responsible for the conventional
information system domain that deals with systems for the existing real stores and
works to optimize the operation, maintenance and management of existing systems.
IDOM Technology also builds systems related to the development of large stores and
repair shops and inventory strategies.
In the domain where IT and business are combined mainly in new business areas, we
have built an organizational system in which business operations and IT are advanced together by assigning IT personnel to the marketing team and business departments. The IT personnel in this domain work to attract more customers on the Internet and support new businesses.
We have defined the domain where we seek to achieve the missions and goals in
business plans internally and the domain where we outsource work. We procure things and employ and cultivate IT personnel, who play an important role in our IT plan, taking the domains into consideration.
Improvement of the environment for the latest information processing technology
For the renewal of legacy systems, we are visualizing the usage status and costs of each system, and discussing with the departments using the systems about abandonment and replacement. We are also working on loosely coupled systems through in-house development and API development.
For aggressive IT, we are working on speedy development while actively adopting
agile development. We also provide IT training for divisional staff to promote DX.
Ultimate Goal of DX and Progress Management
We believe that the ultimate goal of digital transformation is contributing to customers and society.
At IDOM, each business department sets KPIs (key performance indicators) with management. Progress in KPIs in each business department is managed at meetings where management, including the president, participates. These meetings are held quarterly.
Information Security, Risk Management
We work to strengthen both our "aggressive IT," the aggressive promotion of IT
utilization in business, and "defensive IT," responses to diversifying IT risks. We
apply our comprehensive understanding of risks such as information leaks and
unauthorized access towards outlining optimal measures grounded in regulations
related to information management and information security regulations. We also
conduct companywide initiatives related to IT control and business continuity plans
to prepare us for potential system failures.