IDOM Corporate Philosophy
We aim to continue to grow together with our five
key stakeholder groups to achieve a prosperous
future through the embodiment of IDOM-ism.
Our five key stakeholders are society, customers, employees, partners, and shareholders. Since our beginning, "Growing Together" has been our corporate philosophy. The concept of stakeholder capitalism has been our focus since IDOM was founded.
IDOM Sustainability Declaration
Since it was founded, IDOM has had a corporate philosophy of "Growing Together", where we aim to grow together with our five key stakeholders: society, customers, employees, partners and shareholders. Based on this corporate philosophy, we believe that our used car distribution business contributes to a sustainable society and defines the value of IDOM's existence as a company. Going forward, we will continue to boldly tackle the challenges of transforming the used car distribution market and continue to create long term value for all our stakeholders into the future.
Value of the Existence of IDOM
IDOM's business operations include the purchase, sale, subscription-based provision and leasing of used cars. It could be said that the widespread distribution of cars through these business operations contributes to the maximum utilization of cars as resources. We believe that the value of IDOM's existence as a company is to encourage the circulation of ownership and circulation of use of cars, and to play a role in the economic cycle in the field of automobiles. We therefore believe that it is essential to enhance IDOM's corporate value in order to contribute further to the creation of a sustainable society.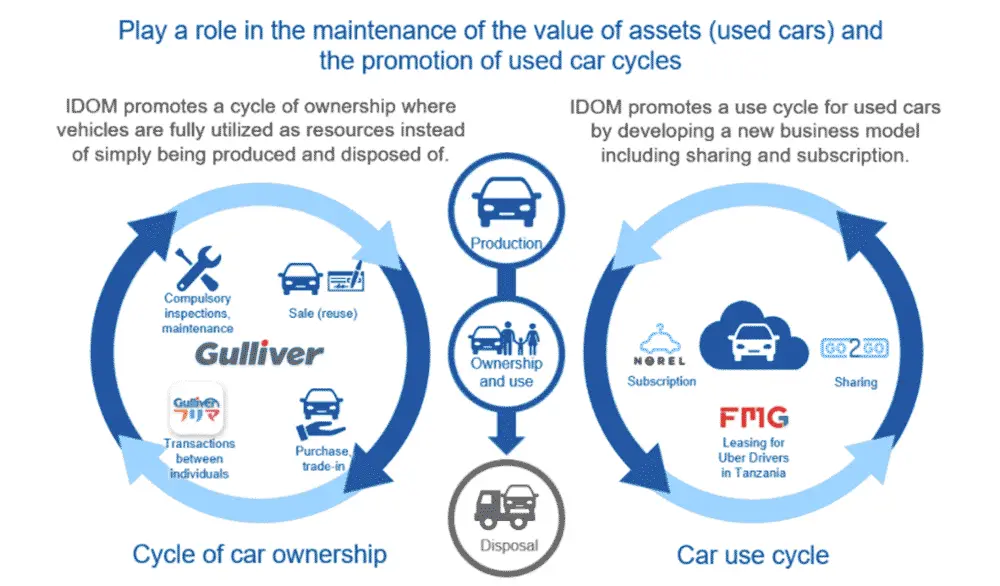 IDOM's Key Themes
Environment
Contributing to the realization of a sustainable society through the used car distribution business (Value of the Existence of IDOM) Contributing to the realization of a sustainable society through consideration for global environmental issues such as climate change
Society
Ensuring diversity through consideration for employee health and healthy working environments based on the idea of diversity Social contribution that can be facilitated by IDOM through its business operations
Initiatives Giving Consideration to Global Environmental Issues Such as Climate Change
Driving paperless operations
(Digitization of sales agreements, reduction of paper resources by sharing meeting materials online, etc.) Switching to LED for light fixtures at directly operated store locations Sale of hybrid vehicles and EVs that meet consumer needs
Approach to Diversity
IIDOM has created an environment where employees can fully demonstrate their abilities and play an active role, regardless of characteristics such as gender, culture, race, religion, sexual orientation, age or disabilities. We have also established various systems and training for employees to achieve personal growth and self-improvement. We will continue to respect the human rights of our employees and work actively to create a system that allows employees to attempt various challenges.
We believe that diversity will be achieved by focusing our efforts on improving the
environment and developing human resources. For this reason, we have not set numerical diversity targets at this time.
Initiatives to Improve the Environment and Develop Human Resources Based on "Approach to
Diversity"
Encouraging employees to take childcare leave regardless of genderReducing total working hours through efforts such as increasing the number of
public holidays Operating the Sakura Project to support active roles and empowerment for all
female employees (since 2008) Creating an environment where employees can make maximum use of their abilities, including telecommuting, by promoting work style reforms Challenge application system that allows employees to apply for transfers for themselves, with the aim of promoting further self-growth Theme-specific human resources development training system, with training that varies according to job type, position, and experience Ability development support course, in which employees can participate for the purpose of developing their own abilities Store manager qualification examination system, for appointment of store managers by qualitative and quantitative evaluation Store Pro system, a professional store manager system that challenges managers to engage in store management as business managers
Social Contribution Initiatives Made Possible Through IDOM's Business
Free provision of used cars to healthcare professionals (2020)
During the state of emergency declared in response to the spread of COVID-19, used cars were lent free of charge for a certain period of time, primarily to healthcare professionals. (#Save Moving)
Free provision of used cars to victims of the 2011 Tohoku earthquake and tsunami
A total of 1,000 used cars were provided free of charge to support the victims of the 2011 Tohoku earthquake and tsunami.
Implemented the "UNICEF support gift" project when selling/purchasing used cars (2011-August 2022)
When selling or buying used cars at any Gulliver stores locations in Japan, one of the four types of UNICEF support gifts selected by the customer was provided to children around the world as relief supplies.